Campbellford Fair presents an
Outdoor Christmas Market
A craft and vendor shopping extravaganza!
All COVID Protocols will be followed. This event has been reviewed and approved by Public Health.
Vendor Information below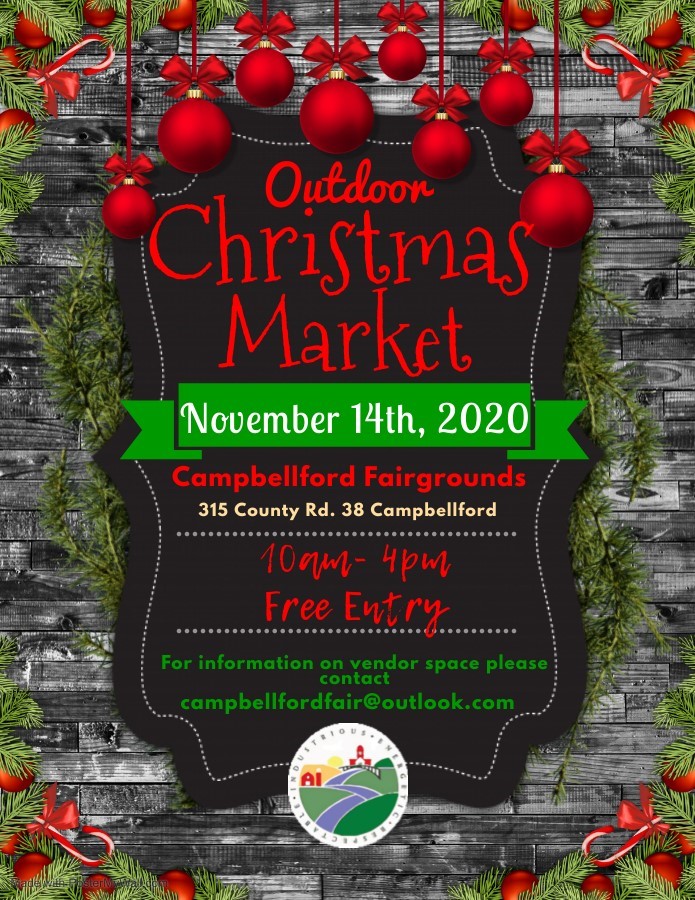 Looking to be a Vendor?
This event is being held outdoors at the Campbellford Fairground. All vendor space is outdoors, and you will be on grass or dirt. There are limited vendor spaces available under cover in open air buildings.
All vendor spaces will be 8 feet x 8 feet
Limited space available under cover 8×8 – $35 HST Included
Open air space 8×8 – $30 HST Included; use of a small pop up tent is allowed, must be secured to the group
Limited 8-foot tables will be available to rent for $5
All vendor space will be designed and spread out to ensure social distancing can occur
Each vendor will be required to wear a face mask for the duration of the event
Each vendor must provide their own hand sanitizer for the public to use prior to touching any items within our vendor space
Each vendor is required to use hand sanitizer following every transition/payment
Directional flow will be established throughout the event space
Each vendor space will be limited to one person per booth – COVID protocols will limit the total number of people within the event at one time, need to ensure we can have as many customers as possible within the event space.
Each vendor will be required to sign and return a contract prior to the event
Payment must accompany the signed contract to confirm vendor space
Campbellford-Seymour Agricultural Society will NOT assume any responsibility of losses that may be incurred from pilfering, water damage, fire, accident or any other cause. Vendors are advised to insure their own good against any such
Each vendor must self-screen for COVID prior to entering the grounds on the day of the event.
Vehicles must be parked outside of the event space while the event is open to the public. Parking is available on the fairgrounds outside the event space.
Event will proceed regardless of weather
Please completed and return a vendor application (see below) to campbellfordfair@outlook.com by Oct 28/20 for review and approval. In order to ensure a diverse number of vendors and products available for sale, not all vendors may be selected.  A submitted application does not guarantee a vendor space.Vendor space will be confirmed by Nov 1/20.